Hey,
I'm really glad you're here.
The reason? I have some exciting news about the future of this newsletter.
But because I know you're pressed for time right now, I wanted to give you an overview of what this is about. That way, you can scan this and still know what you need to know.
What you need to know:
This newsletter has a new name.
I will be upgrading this newsletter to a weekly email, sent every Monday morning.
I need your help to reach 1,000 email subscribers by December 31, 2020 (We're at 132 today).
Below, you will find my State of the Newsletter letter. It's pretty long (~2500 words).
This letter contains four parts:
The Start of the Newsletter: How the newsletter came to exist (I think you'll be surprised)
The State of the Newsletter: How the newsletter is doing in some key metrics (VERY good news!)
The Future of the Newsletter: My big goal for 2020 (And how we're going to get there)
What You Can Do: How you can support this newsletter
---
Part 1: The Start of the Newsletter
I launched this newsletter in October 2018.
I cringe when I read the work I put out back then. My work resembled someone who was deeply hurting and was looking to find worth in his work.
Which is exactly what it was.
A year removed from "retiring" from baseball, I had never taken the time to fully grieve the end of my playing career.
To avoid grieving the end of my career, I turned to golf. I became obsessed with the game and even took a low-paying job at the local course so that I could golf for free.
But as it usually happens when people try to dodge their pain, s#*! eventually hit the fan. For me, it happened one month earlier–in September 2018.
On a perfectly sunny day, I played a solo round of golf after clocking out at my day job. No surprise, I hit a handful of bad shots. That wasn't abnormal. I always hit bad shots.
But something was different this day. On this day, those bad shots were the catalyst to unleashing a measure of rage on myself that I didn't know existed within me.
I won't repeat the things I told myself. In fact, I've tried to forget many of the specifics. All I know is that I verbally assaulted myself to a point where I wept. How had I gotten to this point?
I returned home and tried to act normal. I had always been my own harshest critic. This wasn't any different.
The sun would rise again tomorrow.
The sun did rise, but the next day was even worse.
After work, I returned to the golf course. I played another solo round and was on the 5th hole when it happened again.
Except this time, the verbal ambush was taken to a new extreme.
I left the golf course and arrived home a broken man. In the days that followed, I asked my mom for details of our family's history of depression that had claimed my grandmother when I was only a few years old.
She told me what she knew. But then she asked me a question that would change my life forever. She asked me what I wanted to do. For perhaps the first time since I decided to retire from my playing career, I felt a sense of clarity on my desires.
"I want to be a writer."
Looking back now, I don't even know where that came from.
My mom offered to purchase an online course for me that would help me gain the foundational understanding of what it took to write online and help me on my way.
Starting the very next day, I woke up especially early to watch one lesson from Jeff Goins' Creative Live class and write 500 words. I did that every day, eventually convincing myself of my identity. I was a writer.
In the early days of this newsletter, my writing gave me space to process the deep pain I was feeling. By writing it out, I was able to distance myself from the agony I felt as I dealt with the loss of my baseball career.
I didn't recognize it at the time, but writing (and appointments with a counselor) became the vehicle that carried me through the 5 stages of grief & loss.
I started out by writing that I hated baseball. I denied that I missed baseball and isolated myself from the baseball community I had grown so close to. In the ensuing weeks and months, I worked through anger, bargaining, and depression.
Finally, I wrote a post called What I Miss About Baseball.
It didn't occur to me then, but that was a huge breakthrough. I had finally come to accept that the playing aspect of my baseball career was over. Once I hit publish, I was freed from the anguish of loss. I had come full circle, admitting that baseball was and would always be a part of my life.
It was a key moment that opened the door towards the job I would accept a few months later–Minor League Pitching Coach.
Writing those articles was deeply therapeutic.
Writing online–writing this newsletter–has changed my life forever.
Some of you who have been here since then remember those articles. I can't tell you how much I valued having you read those articles and support me through my grieving process.
Since its founding in October 2018, Tanner Talks has changed a lot.
At first, it was a way for me to alert subscribers that I wrote a new article. Over time, it's transformed into a place where I share the best ideas I come across from a variety of sources to help you think better. It's as much a creative thought outlet for me as it is a high-signal information source for you.
That transition has come from my realization that writing is there are two types of writing: personal and public. My early writing was deeply personal. As I've grown in the last 20 months, I've gradually shifted towards public writing: the primary focus is to benefit the reader.
No matter when you signed up and became a part of this newsletter, I want to say thank you. With so many things competing for your attention, I can't tell you how much it means to me when you decide to invest in yourself by giving a few minutes to read an edition of Tanner Talks.
This newsletter is nothing if you don't read it. With that in mind, I want to take you under the hood to see the current state of the newsletter.

Part 2: The State of the Newsletter
In the second part of this newsletter, we're going to talk about three metrics that are key to email newsletters:
Subscriber count
Open Rate
Click Rate
Subscriber count
As of today, Tanner Talks has 132 subscribers.Below is a graph of subscriber growth since November 2018.

As you can see on the far right side of the graph, we've had good growth in the last month. In fact, 14 new subscribers joined us in the month of May alone. If that's you, I want to say a sincere thank you.
Open and Click Rates
Two other stats that email newsletter owners care about are open rate and click rate.
Open rate is simply how many people opened an email divided by how many people received that email.
Click rate is the percentage of people that clicked a link somewhere within the email.
An analysis by Mailchimp, one of the largest digital marketing companies in the world, found that the average open rate of all newsletters was 21.33%. On this, I have some very good news: the open rate of Tanner Talks is more than 2x higher than average at 45.76%.
The same analysis found that the average click rate is 2.62%. Our click rate is 7.83%, almost 3x higher than the average.
I would like to give you credit here. This newsletter is for curious, growth-minded people like you. It doesn't surprise me that you want to read and engage with content that will help you learn. That's what makes you awesome.
Even so, more important than open and click rates is the human connection that happens after each email is sent. I value each email, text, or tweet I receive in response to an email more than the open or click rates.
I read every single response and am thankful that I can learn from you in your insightful responses.
Responding to the emails is one of the easiest ways you can support the future of the newsletter. Which is the next thing I want to talk about.
Part 3: The Future of the Newsletter
The newsletter is in a good place. We're growing steadily (our current pace is ~3 new subscribers/week). Subscribers enjoy the content. I truly feel like we have something special here.
But, the goal is to improve. And one of the amazing things about improvement is that it can take many forms.
While I will always try to improve this newsletter in every area, I am most focused on one area for the next 7 months.
My Big Goal
I've never really talked about this before, but it's important that I do now.
My goal is to grow this newsletter from 132 to 1,000 subscribers by January 1, 2020.
That means that we will need to add 868 new subscribers in the next 209 days. At our recent pace of +3/week, we will not get there. To gain 868 subscribers in 209 days would require a linear growth of 29 subscribers per week or 4.15 per day.
The good news is that growth is rarely linear. Instead, it can take the form of any number of growth curves.
As James Clear covered in his mega-best seller, Atomic Habits, continual improvement can often lead to exponential results.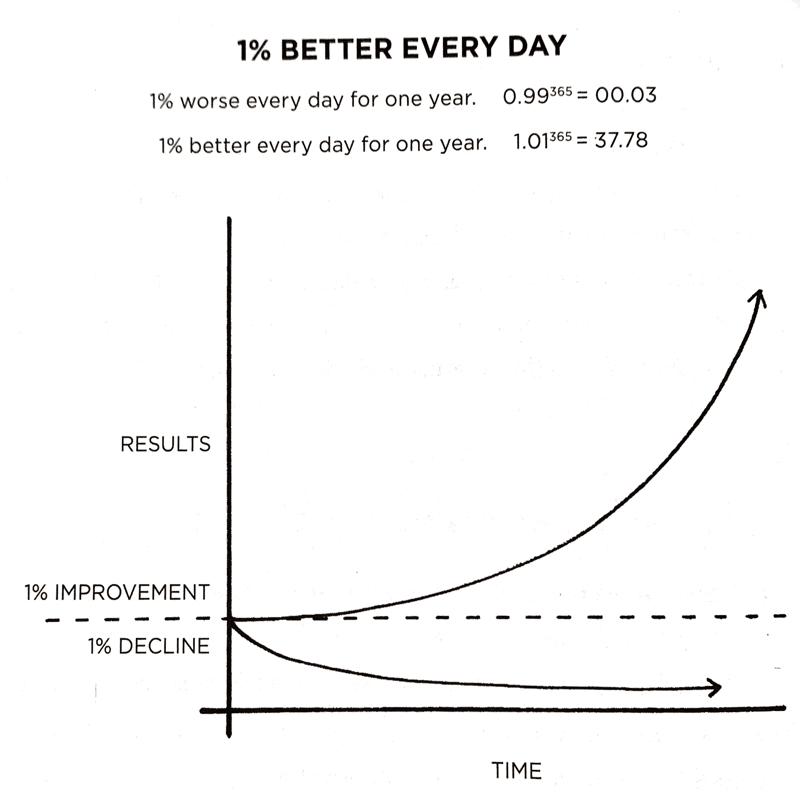 Adding 868 subscribers in 209 days is a tough challenge. No doubt about that. But it's possible.
My promise to you is that I will commit to continued 1% improvements that lead to compounding results. Which I believe makes the challenge of my big goal possible.Here are four reasons why I believe 868 subscribers in 209 days is possible:
1. A New Name
As of today, Tanner Talks is taking on a new name.It is now called Monday Morning Edge.

Why the change?
I recently had the chance to talk on the phone with a loyal reader of the newsletter.
One of the things we talked about was the name Tanner Talks. He rightly felt that the old name could come across as narcissistic and would deter people who don't know me from signing up.
Essentially, they'd say, "Who's this Tanner guy and what gives him the right to talk to me?"
He was absolutely right.
Monday Morning Edge is more welcoming than Tanner Talks ever was.
When I was in elementary school, I learned that last names emerged as a way for people to label a person by their trade. That's why you see a lot of Smith's out in the world.
With that line of thinking, this name change will help us achieve the big goal. But it's not just the name that's changing; the newsletter's purpose has also received a facelift.
2. An Updated Purpose
It's much easier to explain Monday Morning Edge than it was Tanner Talks.
Tanner Talks was a newsletter that shared the best of what I had learned. That's interesting to a small subset of people who know me. Unfortunately, it does a poor job of actually explaining what's inside each newsletter.
Monday Morning Edge doesn't have the same problem.
It can be explained in a sentence:
Monday Morning Edge is a newsletter to help you gain an edge in the week ahead.
It can also be explained visually: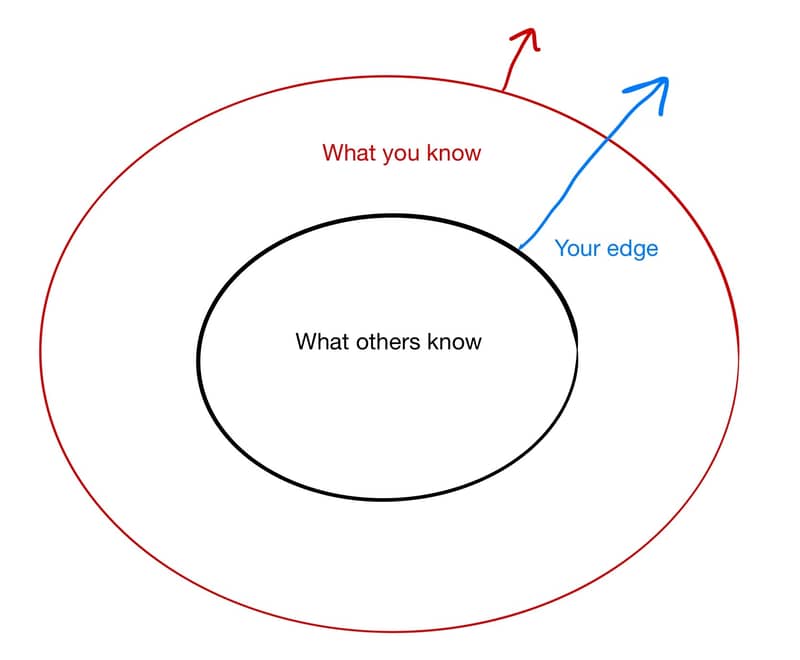 My first rule of communication is that clarity is king. I believe the new name and the updated purpose statement improve the clarity around the newsletter.
It's a subtle shift, but one that will help the people you invite and the people who stumble on my website know what the newsletter offers.
Which will help us get to 1,000 subscribers by January 1, 2021.
3. A New Frequency
Starting this Monday (6/8), I will send Monday Morning Edge every Monday, upgraded from every other week.
The goal of Monday Morning Edge is to empower you with the ideas that will give you an edge in the week ahead. Upgrading this newsletter to a weekly frequency is part of that.
4. A New Email course
To reach my 1,000 subscriber goal, I'm creating high-quality content for subscribers.The first thing that I've created is a free email course. This course is based on my most popular blog article, Building a DIY Second Brain.
Building a Second Brain is an online course taught by Tiago Forte. Students learn how to organize their digital life and build a note-taking system that helps them become more productive and do more work that matters.
Unfortunately, the course has a high price tag. I wanted to get the benefits of a Second Brain without shelling out the money. To get the benefits, I dug through dozens of publicly available resources and built a second brain that has changed my life.
In the new email course, I give the main lessons and action items that you need to know to build your own second brain. Those interested will get the email course as a gift for signing up for the newsletter.
If you're already a subscriber and want to join the course, all you need to do is fill in your information here.
Summary
I believe that the new name, updated purpose, upgraded frequency, and a new email course will help achieve the big goal for 2020–getting 1,000 email subscribers.
Part 4: What you can do
While I anticipate the email course being a success and bringing new subscribers on, I'm going to need some help. Your help.
I'm usually not comfortable asking for help like this, but I'm going to try today.
If you enjoy this newsletter, please invite your friends. It's the best way you can support the future of this newsletter.
I know it can be kind of uncomfortable to share things like this with friends. To help ease some of that discomfort, I've made it easy with the links below:
No matter how you choose to share this newsletter, I'm grateful. Thank you.
In Closing
Thank you for taking the time to read this all the way through.
I hope this email gave you insight into the past, present, and future of this newsletter.
I'm thankful for what's happened and extremely excited about what's to come.
Thank you for being along for the ride.
Talk to you Monday,
Tanner