It was January 26, 1991 — the night before Super Bowl XXV.
As the Tampa streets buzzed with anticipation for Super Bowl Sunday, New York Giants' Defensive Coordinator Bill Belichick assembled his men to reveal his master plan for stopping the Buffalo Bills and their high-powered K-Gun offense.
Buffalo had an easy-going of the NFL that year.
On the backs of Jim Kelly, Thurman Thomas, Andre Reed, and Bruce Smith, they marched to a 13-3 record and a trip to the Super Bowl.
They led the league in points scored (26.75/game) and were sixth in total points allowed (263 total).
While the Giants were certainly a worthy opponent, all signs pointed towards a Bills' victory.
Back in Week 15
But 43 days earlier, these two teams had met for one of those old-school, smash-mouth football games.
In their Week 15 match-up, the Giants held the K-Gun offense to 17 points on 264 total yards. The Bills won the game 17-13, but the game could have gone either way.
Thurman Thomas (who led the league in total yards from scrimmage that season) scored one touchdown on only 60 yards on the ground. Not exactly the type of day you'd expect from the league's #1 back.
That game had served as a measuring stick on the Giants' ability.
While they had lost the battle, they felt prepared for a second go-round in Super Bowl XXV.
The Method to Belichick's Madness
As the Giants' defensive unit settled into the team's meeting room, they thought that they would be asked to do the same thing as week 15 — just slightly better.
But as the lights dimmed and Belichick began to reveal what his men would have to do to win, the players were shocked. Years later, linebacker Carl Banks recalled his reaction to the plan:
"I thought it was a collective brain fart, like what the hell are you talking about? I think because we were a team that prided itself defensively on not giving up hundred-yard rushers, not even giving up 100-yard games for a total offensive rush stat. But he said it, we are all in an uproar, and we're thinking Bill is just conceding that Thurman is just this good of a football player that we won't be able to stop him. And then he reeled us back in and kinda gave us a method to the madness."
The Giants were a team that stopped the run.
Their linebacker core of Lawrence "LT" Taylor, Pepper Johnson, and Erik Howard punished anybody who dared to challenge them over the middle.
Throughout the season, they had completely stifled the game's top running backs.
In addition to holding Thurman Thomas to 60 yards in their week 15 match-up with Buffalo, they held Dallas' Emmitt Smith to a total of 39 yards on 18 carries in two games against the Giants that season and limited Barry Sanders to 69 yards on 11 rushes in their week 11 match-up.
3 Hall of Famers.
4 games.
168 total yards.
Stopping the run was who they were, but now they were being asked to abandon who they were in order to lift the Lombardi Trophy the very next night.
Belichick methodically explained that in order to stop Buffalo, the Giants would have to take the air out of the Bills' passing attack.
In order to not lose, Belichick 's defensive unit had to adopt a new identity. They had to be willing to concede yards on the ground to Thomas and limit big pass plays from the Bills' fast-paced K-Gun offense.
Super Bowl Success
The next night, the Giants nearly executed the game plan to perfection.
While James Lofton did break off a 61-yard reception early in the game, the Giants held Kelly to 212 yards passing and 0 touchdowns. Thurman Thomas ran for 135 and caught 5 passes for 55 more.
Belichick's plan was certainly unconventional…
But it worked.
It worked because instead of Belichick trying to figure out what they had to do to win, he inverted the problem and tried to figure out what they could do to avoid losing.
And when he looked at the Buffalo Bills through that lens, he saw the answer clear as day.
And on that chilly January night in Florida, the New York Giants became world champions.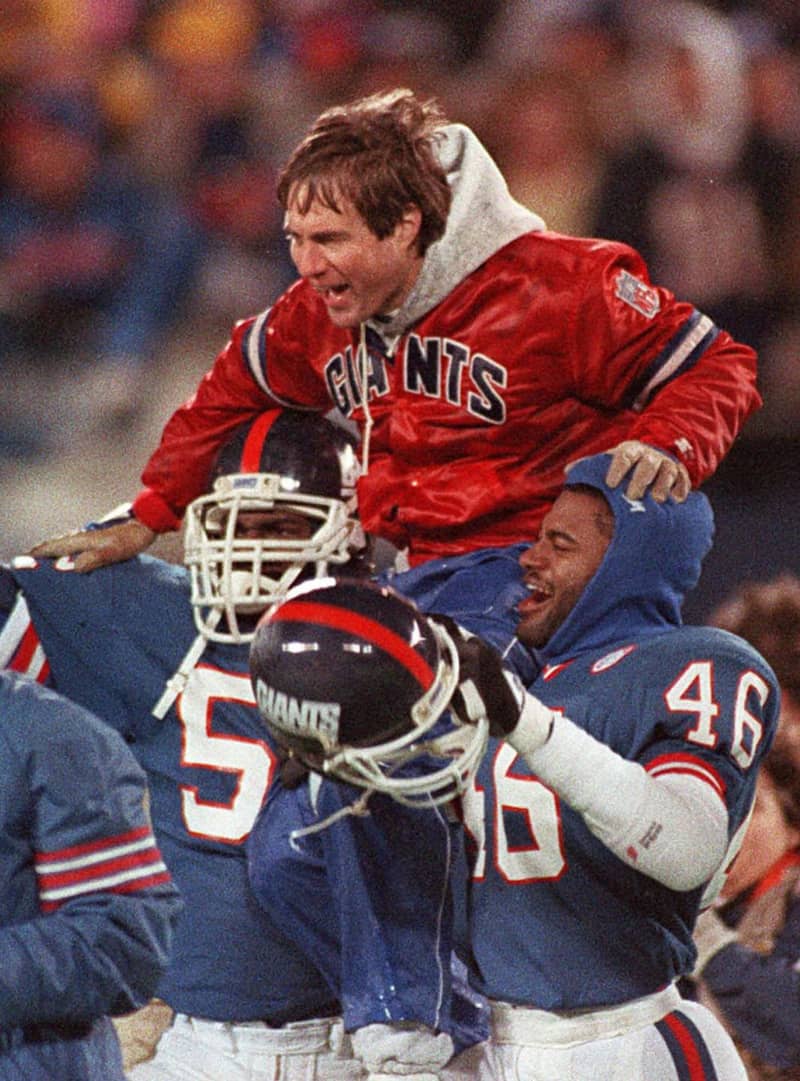 What You Can Learn from Bill Belichick
There's something important here that I want you to pick up.
Whether you're a coach, athlete, front office member, or a passionate sports fan, you can learn from Belichick.
It's called inversion. And it's one of the secrets behind Bill Belichick's 8 Super Bowl rings.
Belichick's former colleague Mike Lombardi put it this way:
"One of the adages Belichick always subscribes to is called the inverse theory by Charlie Munger. Instead of saying, 'What will it take to win?' you ask the question, 'What can we do to avoid losing?' and Belichick always takes that approach."
When you're approaching any problem, there are two ways to look at it: forwards and backwards.
Most people choose to try to solve problems forwards. They try to figure out what they have to do to win the game.
But some of the world's most successful people know that avoiding stupidity is better than seeking brilliance.
So I'd like to encourage you with this: sometimes, your toughest problems can only be solved by walking around to the other side and asking, "How can I avoid failure here?".
Instead of trying to figure out what you must do to be successful, figure out what successful people avoid and then make sure you absolutely do not do those things.
It's not an easy approach. The first time you think this way will feel awkward.
But as you apply this approach more often, it becomes more natural.
And as you see the fruits of an inverted approach to life, you'll never go back.